Allelys has transported, offloaded, and installed a 184-tonne transformer in the UK.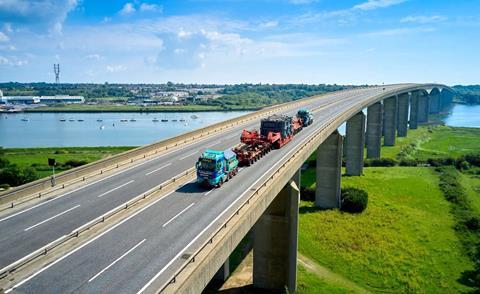 The transformer, which measured 8.7 m x 5.4 m x 4.8 m, was received at Ipswich Docks, placed onto a 12-axle flat top trailer and moved to a temporary storage area.
The unit was then transported 59 miles (95 km) to Burwell, Cambridge, using an 18-axle, 200-tonne capacity girder frame.
The route, engineered by the Allelys team, included a temporary closure of the Orwell Bridge to enable the transport to cross without any other vehicles on the bridge at the same time.
Once on site, the transformer was jacked up using synchronised climbing jacks and positioned onto a turntable to be rotated, skidded and then jacked down into its final position.
Allelys' in-house engineering team supported the project to ensure that the abnormal load was able to successfully travel through the selected route by completing route surveys and swept path analysis. They also engineered a lift plan for the crane work on site.
Allelys is part of The Heavy Lift Group (THLG).