UK-based Allelys has transported a World War II landing craft from its restoration location at Portsmouth Naval Base to Southsea, where it be on display to the public at the National Museum of the Royal Navy.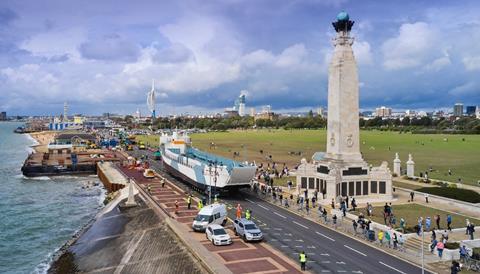 The unit weighed 220 tonnes and measured 57.4 m in length. It is the last landing craft of its type in the UK and one of the last in the world, said Allelys.
Allelys used 24 axle lines of SPMTs in a 2 x 4 configuration to transport the landing craft 100 m to the barge location. It was then rolled onto the barge and transported to Southsea.
The unit was then transported 800 m to Clarence Esplanade and was jacked down using 9 synchronised climbing jacks. A mobile crane was deployed to load a two tanks on to the landing craft.
Four lines of heavy-duty skidding equipment then moved the entire piece into its final position.
Allelys said that it was contracted for the full engineering and project management scope, including transport studies, stability and load calculations and the offloading methodology.
"With the piece having limited remaining strength in its hull, the engineering studies were critical to the success of the project," said Charlie Latham, head of tendering and business development at Allelys.