Heavy lift airfreight specialist Antonov Airlines has transported a 90-tonne heat exchanger from Italy to Saudi Arabia onboard one of its AN-124-100 aircraft.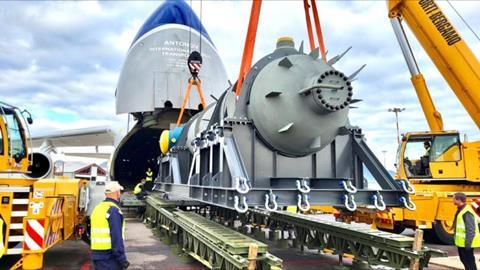 With accessories, the shipment weighed 105 tonnes and was delivered on behalf of DHL Global Forwarding.
"An external crane in conjunction with the onboard winch of the AN-124-100 were used to load and unload the HP steam superheater on the stand specially designed and manufactured for air transport, as well as special loading equipment designed and manufactured by Antonov's in-house engineers," said Olha Danylova, commercial executive at Antonov Airlines.

Sophie joined the industry in 2017 as staff writer at Heavy Lift & Project Forwarding International. After winning the Seahorse journalism award for newcomer of the year, went on to become news editor and subsequently deputy editor of the magazine.