Bertling Logistics has coordinated the shipment of a 909-tonne intervention tower from Port Clarence in Middlesbrough, UK, to Singapore. The tower will be installed on FTAI Ocean's DP3 well intervention vessel, Pride.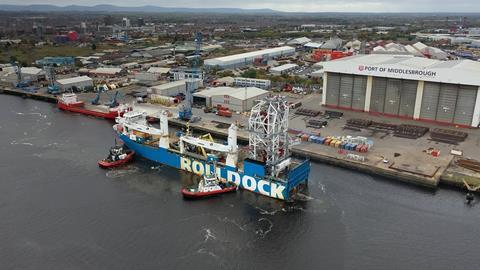 The two major operational headaches for this project were: draught restrictions at the manufacturer's yard; and air draught restriction downstream in the form of the Tees Transporter Bridge. To overcome the challenges, Bertling Logistics performed a study for all possible shipment modes, including heavy lift vessels, gearless vessels with shore/floating cranes, and ro-ro vessels.
To tackle the draught restriction, the tower had to be moved to a deeper port. At the manufacturer's site in Port Clarence, the 40-m tower was first jacked up and loaded onto SPMTs by means of four 500-tonne capacity climbing jacks. Bertling provided design assistance to allow the retrofitting of the required jacking lugs that would allow Mammoet's SPMTs to be inserted beneath.
The tower was rolled onto a barge at the plant's quayside, which then crossed the River Tees to the nearby port of Middlesbrough, where the tower was discharged. A Roll Dock open-top vessel proved suitable for the next leg of the project.
The 909-tonne intervention tower was stowed aboard the ship, along with additional cargo that had been added to Bertling's scope: five out-of-gauge items plus 20 shipper-owned containers.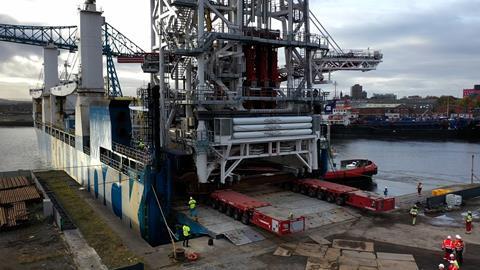 Discussions between Bertling Logistics and the Harbour Master identified how safe passage under the transporter bridge could be achieved. A certain tide height was confirmed as feasible and suitable draught and tidal curves were confirmed to be available during neap tides on six days per calendar month. The vessel cleared the bridge with just 1 m to spare.
The vessel took a route through the Suez Canal, across the Indian Ocean and up the Strait of Malacca, arriving in Singapore after 28 days of sea passage.
Upon arrival, Bertling's Singapore-based team reloaded the tower onto SPMTs and rolled the tower off the vessel into the yard. Because of limited draught at the receiving jetty, the Singapore team had to engineer an elevated ramp on the quay with spacer barges.
Bertling said that preparations for this complex project began in the autumn of 2019. Final load out took place in November 2022