Bolk Transport has moved a 35 m-long pressure vessel from Coesfeld to Haltern am See, Germany, using a Broshuis pendle axle semi low-loader in a 3 + 6 configuration.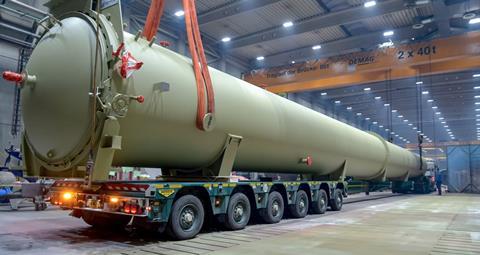 The pressure vessel measured 3 m in diameter and weighed 55 tonnes. With a large overhead crane, the huge vessel was carefully hoisted onto the trailer. The combination weighed more than 100 tonnes. For the drive to Haltern am See, it was accompanied by four escort cars.
According to Broshuis, the route from Coesfeld had a particular benefit: 'long' transport was taken into account when building the roads.
After just over an hour, the convoy arrived at its destination.