Bolloré Logistics has coordinated the unloading and delivery of components for the Goldwind Moorabool wind farm in Australia.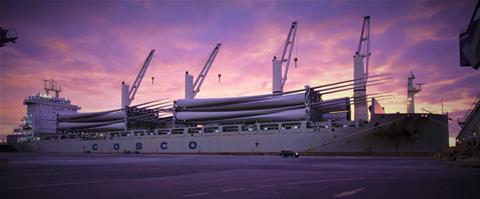 The project began in March 2019 and lasted just over one year. Equipment was shipped from manufacturing sites in China to the port of Geelong, and then delivered by road to two wind farm sites located 70 km north of the port.
Bolloré's teams in China and Australia worked closely with COSCO Shipping to execute a total of 13 voyages – each carrying approximately 50,000 freight tons of equipment. In Australia, Ares Transport handled the inland delivery.
Specialised transport solutions were required to transport the cargoes, which included 69 m-long curved blades. For these components, extendable trailers were deployed and deliveries were only permitted at night, said Bolloré.