Germany's Schares has utilised two Cometto Eco1000 transporters to move bridge components in Oberhausen.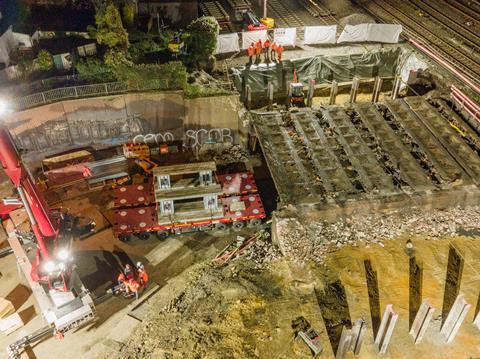 Two six-axle self-propelled vehicles were electronically coupled in a side-by-side configuration. This combination had a payload of 520 tonnes.
The first six of 11 bridge components were removed from the project site in a nighttime operation. Schares managed the operation using a single remote-control to manoeuvre the transporters.
Lifting the 14 m-long bridge elements from their initial positions using a crane was not possible for this project, as it would have required Deutsche Bahn dismantling the electrical overhead lines above the tracks at huge cost.
With the Cometto transporters, only the road and underpass needed to be cordoned off. When the signal was given that the overhead lines were current-free, the modular combination was set in motion. To compensate for the height of the bridge, additional excavator mattresses and load bearing blocks were mounted on the side-by-side self-propelled vehicle. The Cometto Eco1000 advanced in lowered position under the bridge sections to get ready for lifting.
After precise positioning of the vehicles, the hydraulic bogies lifted two bridge sections at a time from the bridge bearings. This manoeuvre was repeated three times.
The bridge elements were then moved 30 m to a site where a mobile crane was able to load the units onto flatbed trailers.
For Schares, this project was the first time it deployed self-propelled transporters, explained Cometto. Christoph Schares said: "The self-propelled horizontal transport technology from Cometto will complement our cranes on our building sites in the future, enabling us to offer our customers real added value and above all, everything from a single source."