Switzerland-based Toggenburger has deployed a Tadano CC 3800-1 to install an Enercon E 92 wind turbine at the St. Gotthard wind farm.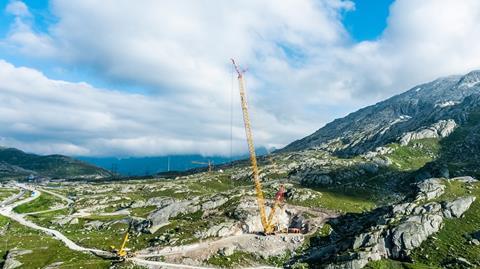 The wind farm was located at an altitude over 2,000 m. The work area was extremely tight and was approximately 20 m lower than the foundation of the wind turbine. The lack of availability of sufficiently large flat area meant the 132 m boom had to be installed 'downhill' with a gradient of four degrees.
Toggenburger bought in Tadano CC specialist Willi Friesen on board for assistance while planning the project. "Setting up a crawler crane in this kind of terrain really requires the use of specialists," said Manuel Widmer, who is in charge of large-scale projects at Toggenburger.
While the crane was somewhat oversized for the components it was lifting, there was a distance of 32 m between the crane set up area and the wind turbine foundation, which required a crane with a large working radius.
Friesen added: "The downhill slope on rough and uneven terrain, combined with the tight space conditions, meant that the boom and LF had to be put together while suspended in the air."
Despite the challenges, the Toggenburger team managed to set up the crane and have it ready to start lifting within the planned timeframe. The heaviest load was the nacelle, which came in at a weight of 65 tonnes.
In Switzerland, the company uses the crane not only for wind turbine projects, but also for bridge and plant construction work.