Collett & Sons has delivered 13 Nordex turbines to the Kennoxhead wind farm in South Lanarkshire, Scotland.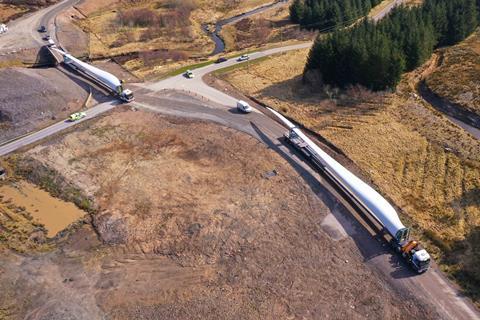 Collett was tasked with all the logistical planning and transport to deliver 130 components, including the 64 m-long blades.
Beginning with a test drive of the 46-mile (74-km) route from King George V Dock in Glasgow to South Lanarkshire, the Collett team assessed whether the long blades could traverse the route. Utilising the data gathered during the test drive, coupled with the preliminary planning reports, Collett determined the suitability of the route and identified any necessary modifications.
This included the removal of street furniture at King George V Dock and civil works onsite to prevent the loaded heavy-duty trailers grounding on the wind farm access roads.
For transport, Collett called upon its specialist wind turbine trailers, including its clamp trailers for the base and middle tower sections; six-axle step-frames for the top towers, nacelles, hubs and drive trains; and Faymonville quadruple extendable WingMAX trailers for the blades.
The components made their way to the project site under police and private escort.
Phase one is now completed, said Collett, with the 133.2 m-diameter turbines expected to enter commercial operation later this year. Phase two is still in development, with 14 proposed additional turbines expected to enter commercial operation in 2024.