Last September, wind turbine manufacturer Nordex Group established a maritime subsidiary at its office in Barasoain, Spain, and established a regular liner service with northern Europe and Asia.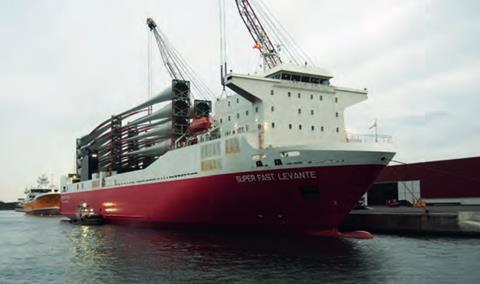 According to Uniport Bilbao, the subsidiary will act as an international cargo agent and logistics operator handling the dispatch and reception of shipments, as well as the consolidation and deconsolidation of cargoes.
Having chartered the vessel Super Fast Levante, which measures 158 m long, the first call was made at Bilbao at the end of October, arriving from India to unload 12 wind turbine blades that measured 12 m long. It then loaded 12 wind turbine blades that measured 81.5 m long destined for the port of Cuxhaven in Germany. These blades were transported to Bilbao by Transportes Aguado and stowed onboard by C. Toro y Betolaza.
From Cuxhaven, the vessel called at the German ports of Brunsbüttel and Kiel, as well as Kalajoki in Finland and will continue on to the Chinese terminal of Lianyungang. After calling in China, the vessel will return to Bilbao closing a 45-day circuit.