Collett & Sons is delivering 242 components to construct 22 Enercon E115 E3 wind turbines at the Creag Riabhach wind farm in the UK.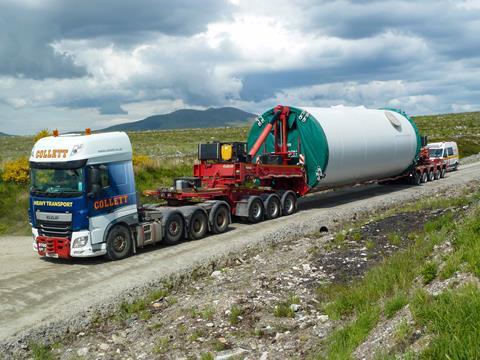 Currently under construction, the Creag Riabhach wind farm is situated on the Altnaharra Estate, near Lairg in the North Highlands, and features turbines with a hub height of 67 m and blades measuring 57 m long.
Arriving at the port of Nigg, the components have to be transported 53 miles (85.3 km) to the construction site.
Collett surveyed and conducted a test drive of the route to identify any necessary route modifications, widening requirements, and areas of street furniture removal to accommodate the wind turbine transports.
With cargoes ranging from 31 to 73 tonnes, the team are deploying heavy-duty trailers such as super wing carriers, clamp trailers, stepframes and flatbeds to systematically deliver the components in line with the construction schedule.
Beginning in June, the team has completed the delivery of components for four turbines, with all 22 expected to be complete by September/October.