COSCO Shipping Specialized Carriers' vessel Zhi Yuan Kou has delivered the final modules for Tengizchevroil's (TCO) Future Growth-Wellhead Pressure Management Project (FGP-WPMP) in Kazakhstan.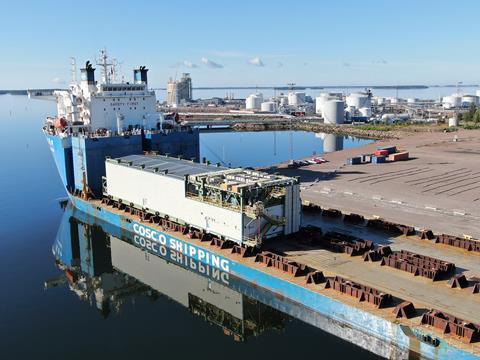 The 61st and final shipment of modules for the project arrived at the Hamina transhipment base in Finland on August 18, 2020. These voyages were handled by a fleet of vessels owned by six companies led by COSCO Shipping.
In total, 196 pieces of cargo, with a combined weight of 195,000 tonnes, were delivered to the project.
"The first sail away from the fabrication yard in South Korea took place on May 25, 2018, which signalled the beginning of three extremely busy years. All modules were delivered safely, and I would like to congratulate all those from COSCO Shipping and their partners who have contributed to this significant achievement," said John Harrison, TCO FGP-WPMP project manager – logistics.
Chen Wei, chairman of COSCO Shipping Specialized Carriers, said that given the scale and complexity of the project, teamwork and good communication were essential to its success.
TCO is a joint venture between Chevron, ExxonMobil, KazMunayGas and LukArco, which was formed to develop the Tengiz and Korolevskoye oil fields located in the Caspian Sea off the shore of Kazakhstan. The FGP-WPMP is designed to increase production at the Tengiz reservoir off the coast of Kazakhstan.