Dachser has coordinated the transport of 138 tons (125.2 tonnes) of automotive manufacturing machinery from Jundiai, Brazil, to Silao, Mexico.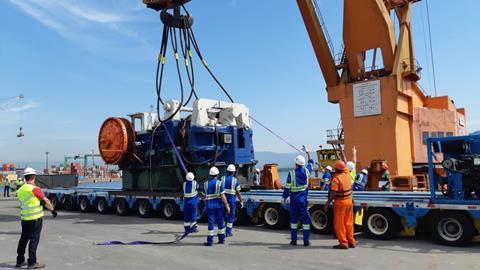 The complex project saw Dachser's teams in the USA, Mexico and Brazil collaborate to move an oversized compressor machine, which weighed 125 tons (113.4 tonnes), and 14 pieces of accessories.
Dachser said that the equipment needed to be lifted out of an 18 ft (5.5 m) concrete pit at the factory in Jundiai. In partnership with Dachser Brazil, a local lifting specialist hoisted the unit out of the pit, before disassembling the machinery into 14 pieces.
Dachser then transported the cargo 98 miles (157.7 km) from the plant on a multi-axle platform trailer to the port of Santos, Brazil.
At the port, the Dachser team arranged for a floating mobile crane – which is situated in the water on a barge – to load the cargo on to a CMA CGM containership. The cargo was stored in the belly of the ship on flatrack containers and a custom-built platform.
The shipment arrived at the port of Veracruz in Mexico on May 3. It was offloaded directly onto a modular truck; Customs clearance occurred the following day. Dachser then transported the machinery 436 miles (701.7 km) to the customer's plant in Silao, where it was offloaded with three carefully positioned cranes.