deugro has coordinated the delivery of equipment for the EGAT project in Poland on behalf of Hyundai Engineering.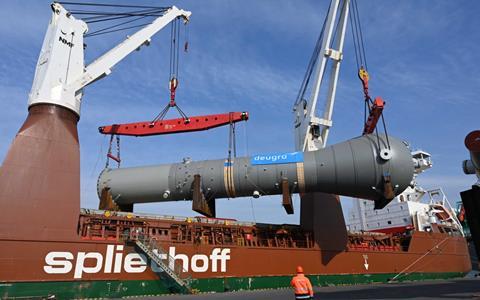 In mid-December, 249 pieces of cargo weighing 2,091 tonnes were loaded onboard Spliethoff's Pietersgracht at the ports of Gunsan and Masan, South Korea. The shipment included a reactor that measured 44.37 m x 9.93 m x 9.85 m and tipped the scales at 596 tonnes.
40 pieces of equipment, totalling 2,000 tonnes, were loaded aboard Jumbo Jubilee in Zhangjiagang, China. This shipment included a propylene propane splitter of that weighed 889 tonnes and measured 96 m x 9.35 m x 8.9 m.
Both vessels are now on their way to Poland, where the combined project team of deugro Korea and dteq are waiting to receive the items. From there, the cargo is being transported by barge and road to its final destination at the EGAT jobsite in Police.
deugro added that it has already transported the first of five propylene storage bullets in cooperation with its partner Best Logistics. The 613-tonne bullet measured 72.13 m x 8.9 m x 11.13 m and was moved from the port of Gdynia, Poland, to the Barkowy jetty onboard the deck carrier Aura. Mammoet is handling the roll-off operations and delivery to the jobsite.
dship Carriers' vessel Sophia has also been involved in the project, delivering 2,350 freight tons of cargo from China to Stettin, Poland.