deugro Germany has delivered 10,500 cu m of machinery for a pulp and paper project in Beihai, China.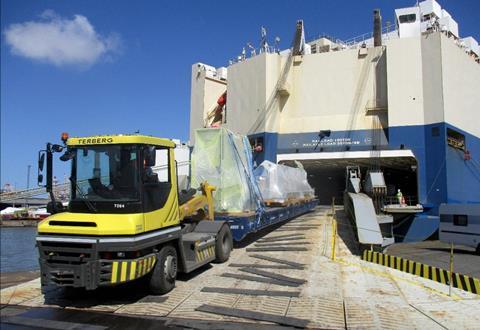 deugro Germany arranged the transport on behalf of Voith Paper. A total of 2,242 tonnes of cargo was delivered between January and August 2021.
The equipment was shipped from the ports of Hamburg and Bremerhaven in Germany and Genoa in Italy to Beihai, China.
deugro arranged the ocean voyage to China and oncarriage to the final production site in Beihai. The cargoes, with weights of up to 68 tonnes, were shipped on ro-ro vessels, which allowed for a high frequency and fast transit time, said deugro.
"The most challenging aspect of this project was the drastically changing global freight market situation amidst the Covid-19 pandemic, with an extreme surge in freight rates, container equipment imbalance, blanked sailings and unpredictable transit times," said Michael Felke, project manager, deugro Germany.