deugro has coordinated the transport of 90,000 freight tons of heavy lift and oversize cargoes from the Far East and Europe to a petrochemical project site in Nizhnekamsk, Russia.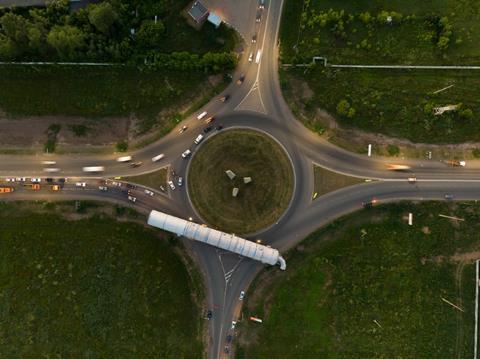 Linde Engineering contracted deugro to deliver the equipment to the remote job site of Nizhnekamskneftekhim's (NKNK) Olefin project.
The cargoes comprised more than 300 units of refining and processing equipment, including a 724-tonne primary fractionator that measured 78 m x 9.8 m x 9 m, and a 525-tonne C3 splitter, which measured 96 m x 7 m x 6.9 m.
deugro said that it developed a tailor-made transport solution, which took into account a complex logistics schedule; short navigation periods; and challenging voyages along the Don River and Volga-Don canal to reach the final destination.
Nine full-charter vessels transported the equipment from various international seaports.
For the cargoes originating in the Far East, the port of Constanta in Romania was chosen at the strategic transhipment hub. There, cargoes were unloaded directly from the vessels onto a total of 11 barges and various sea river vessels.
After stowage of the sensitive cargo, the barges embarked on the 1,350 nautical mile journey to a drydock in Nizhnekamsk.
In Russia, the unloading operations were executed under continuous supervision of a ballast engineer. SPMTs were then deployed to transport equipment 21 km to the project site, accompanied by escort cars and the local traffic police. The empty SPMTs then returned to the drydock, ready for the next unit.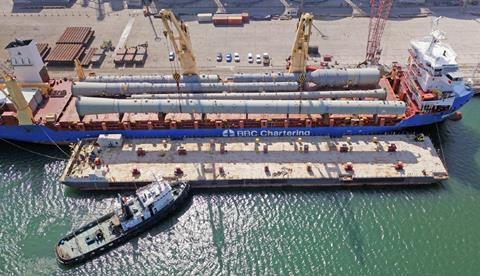 Pavel Sinitsyn, project manager at deugro Projects, said: "To ensure smooth road transportation, especially for the heavy lift pieces, many obstacles such as fences and overhead obstructions, including high-voltage power lines, rotaries and traffic lights, had to be dismantled or improved."
More than 300 additional cargo parts were unloaded at the port of Transkama in Russia, and transported to the construction site by road. deugro said that due to the short navigation time in which the pieces had to reach Nizhnekamsk "every step of the transport chain had to run precisely like clockwork."
Frank Graßl, project logistics manager at Linde's engineering division, said: "Already at the early stage of the project, it was obvious that the transportation of heavy lift components would be an enormous challenge on many different levels. This included not only the sheer number of heavy lift items to be transported during the limited navigation window for river transportation, but also the extremely demanding 'last mile transport', which was characterised by a complex ownership structure of infrastructure obstacles and certain conflicts of interest. And at that time, no one could have foreseen the additional difficulties caused by the global Covid-19 pandemic."
He added that despite the challenges, and thanks to cooperation between deugro and Linde, all heavy lift and oversized components were delivered on time and without damages.