EFE Logistics has loaded out platforms for the Kuzey Marmara underground gas storage expansion (Phase III) project in Turkey.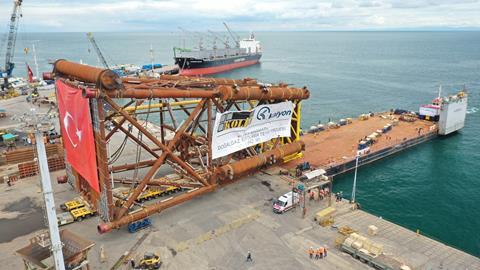 The project spanned several locations across Turkey, including the Cimtas shipyard in Izmit, Martas port in Marmara Ereğlisi, the Sefine shipyard in Yalova, and the offshore operations in the Marmara Sea.
EFE Logistics' scope involved the offshore engineering and offshore transportation of a DP2 jacket weighing around 1,100 tons (998 tonnes). The structure was driven on to a heavy lift barge using SPMTs and then towed to the offshore location.
The scope also involved the load out of the DP1 and DP2 topsides. The widest part of the structures measured 24.75 m. They too were transported on an SPMT combinations – 45 axle lines of Goldhofer modules were deployed, consisting of 23 axles of PST SL Es and 22 axle lines of THPSLs.
For the topside load-out operations, the production facility was located at sea level and EFE Logistics needed to find a solution to move the components level with the barge. The company designed 42 m-long ramps to go under either side of the topside, closing the 1 m gap between sea level and barge loading level.
EFE Logistics was also responsible for the transportation of piles (measuring 20-47 m) for the DP1 and DP2 jackets as well as the long-term barge rental for the offshore operations.
Other equipment deployed for the project included several conventional hydraulic axle lines and dropdeck lowbed trailers to move other large materials for the production of the jacket and topsides onshore.
Cem Yilmaz, managing partner at EFE Logistics, drew attention to several of this project's challenges, including tight schedules, detailed offshore engineering requirements, and rough sea conditions.
He added: "We are very proud to a part of this critical project. It was a milestone for me, personally, and our whole team. Our involvement in the project has spanned nearly one-and-a-half years – four months pre-planning phase, then eight months firm planning stage for the heavy operations, and six months for the execution."
Yilmaz confirmed that EFE Logistics is now focusing on other, similar projects. This includes work relating to the Black Sea gas field in Turkey as well as the Sakarya gas development project, which is national gas project for Turkey that is due to commence from 2022 to 2023.