FESCO Transportation Group has delivered oversized equipment from Russia to the Akkuyu nuclear power plant under construction in Turkey.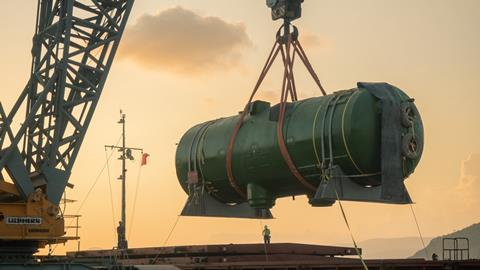 The shipment included four steam generators, which weighed 358 tons (324.8 tonnes) each.
The generators were transported from AEM technology's Atommash manufacturing plant in Volgodonsk to a nearby berth using specialised vehicles. The equipment was then loaded onto a vessel for transportation to Rostov-on-Don, where general cargoes totalling nearly 370 tons (335.7 tonnes) had been delivered by road.
At the Eastern Cargo terminal of the Akkuyu nuclear power plant in the Mersin area of Turkey, a Liebherr LR1800 800-ton (725.7-tonne) capacity crane was deployed for the unloading operations. The equipment was then delivered to the construction site for installation.