Fluor has completed its module fabrication programme for the LNG Canada project in Kitimat, with the last module arriving at the site from the fabrication yard in Zhuhai, China.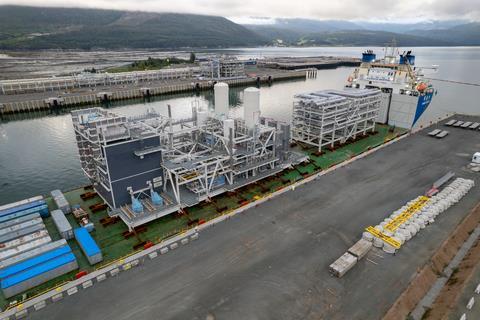 The first major module, measuring 145 ft (44.2 m) tall and weighing more than 5,000 tons (4,536 tonnes) was received in March 2022. Overall, a total of 215 modules of varying sizes have been delivered and are being set at the project site.
Fluor, along with its joint venture partner JGC Corporation, is delivering multiple aspects of the LNG Canada project, including engineering, procurement, fabrication and delivery of modules, and construction of the project's infrastructure and utilities, marine structures and LNG storage tank.
"Completing the module fabrication programme is a major achievement for the LNG Canada project," said Pierre Bechelany, president of Fluor's LNG business. "This accomplishment highlights the success of the innovative approach of modular construction, which has enabled us to advance construction activities on-site while working with local communities, a skilled local workforce, and limiting environmental impacts."
The landmark Canadian project has provided plenty of work for project logisticians, engineered transport providers and semi-submersible/deck carriers servicing the region. The first phase of the build out was slated to require approximately 500,000-900,000 freight tons of cargo.