The Omega Morgan Sarens joint venture in the USA recently teamed up with excavation/grading specialist Minner and Company to execute a complicated bridge build in Port Angeles, USA.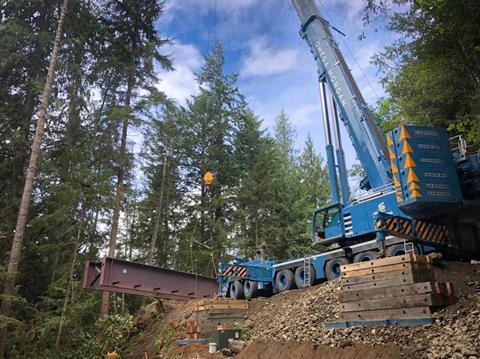 The Washington State Department of Natural Resources (DNR) hired Minner and Company to help create a temporary bridge over a steep ravine in order to complete an access road through a rainforest near Port Angeles. The road would allow the DNR to perform important land maintenance and forestry services in the area.
One of the challenges of the project was its remote location, compounded by the fact that the land was protected meaning only a few trees cold be cleared.
The Omega Morgan crew came up with innovative methods using a 500-ton (454-tonne) capacity Liebherr crane to get the excavation machinery where it needed to be and the equipment for the temporary bridge in place.