Steder Group has coordinated the delivery of three engine generators, weighing 145 tons (131.5 tonnes) each, from Vaasa in Finland to Mali.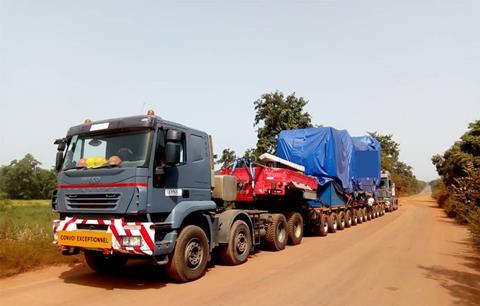 Measuring 12.93 m x 3.3 m x 4.56 m, the units were transhipped in the port of Abidjan in the Ivory Coast. The cargoes were then delivered to Syama.
Steder Group was responsible for the loading operation at the origin port; the charter from Finland to the Ivory Coast; the transhipment in Abidjan; the mobilisation of transport equipment from Denmark; and the road transport from Abidjan to the project site – a distance of almost 900 km.
In addition, Steder Group coordinated the escorts and security management, risk assessments, method statements and route surveys, as well as road and civil works.
At the project site, a jacking operation placed the engines on their foundations.
Covid-19, a long-lasting rain season, a military coup in Mali, civil unrest because of elections in the Ivory Coast, and Customs strikes at the border were just some of the challenges that Steder Group had to overcome to complete the scope of work.
Steder Group is a member of the Worldwide Project Consortium (WWPC) for the Netherlands.