Collett has deployed its recently acquired 250-tonne capacity Goldhofer girder bridge for its inaugural project – the transport of a 172-tonne super grid transformer to the National Grid's Feckenham substation in the UK.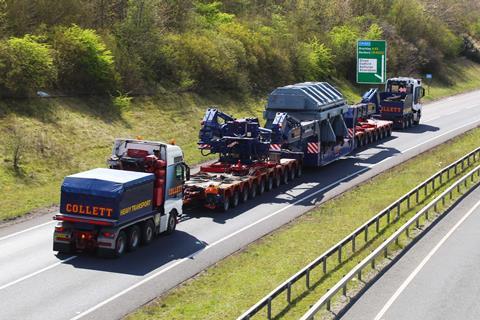 The substation is being upgraded to replace ageing equipment. Collett moved the transformer from Sundon, some 118 miles (189.9 km) away.
Collett mobilised the modular trailer from its Goole heavy lift depot. It was shipped as two separate 10-axle combinations and assembled on site around the transformer to form a 20-axle loaded configuration. With an 8 x 4 tractor unit pulling the combination and another unit pushing, the convoy began its journey with police escorts.
Upon arrival at the site, the Collett team hydraulically raised the side beams of the girder bridge, lifting the transformer to enable timber supports to be positioned. The transformer was then lowered onto the supports and the girder bridge split and disassembled from the payload.
A jacking and skidding system was then used to position the transformer.