Mammoet-Giant Taiwan is currently transporting 333 pin piles for the construction of Greater Changhua 1 & 2a offshore wind farms.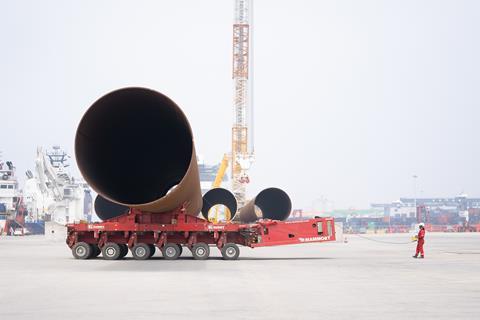 The venture is also supporting Heerema Marine Contractors (HMC) with the load in and load out of equipment and supplies for the working vessel; transport and temporary storage for offshore equipment; and maintenance of two pin pile hammer heads weighing 700 tonnes each.
Mammoet-Giant Taiwan is currently more than 18 months into the heavy transport section of the project. In a bid to tackle weather-related disruption, Mammoet-Giant has increased the wind speed limitation of the crane and set flexible working hours. An increase in wind speed limitation has helped to create a longer window of time for each load out operation.
The companies aim to have all heavy transportation work completed by the end of 2022.