Heavy haulage specialist Hofmann Kran-Vermietung has moved three 75 m-long wind turbine blades from the German coast of the Baltic Sea to Hopsten, Westphalia.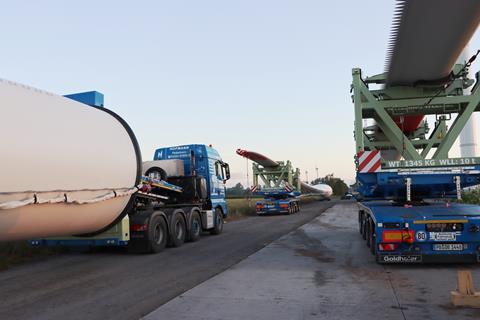 For the 400 km journey from Rostock to the Hopsten-Schale wind farm, Hofmann Kran-Vermietung used its recently acquired Goldhofer bladeS trailers. The combination measured over 82 m long and completed the transports in just three days.
The blade carriers were positioned on the goosenecks and were accompanied by a five-axle trailing dolly, plus a turntable and blade supports. With this system, several roundabouts and tight turns were negotiated without any difficulties.
Goldhofer explained: "As the turbine blade itself has a structural function within the configuration, the solution offers significantly higher ground clearance than extendable vehicles so that the blade simply passes over various obstacles."
Sven Wolter, transport planner at Hofmann, added: "The blade is carried unsupported between the free-turning device behind the tractor and the trailing dolly. This permits higher travel speeds of up to 80 km/h and also greatly simplifies route planning."