Jan De Nul has commenced offshore installation operations at Taiwan's Changhua offshore wind farm with the installation of the first twelve pin piles.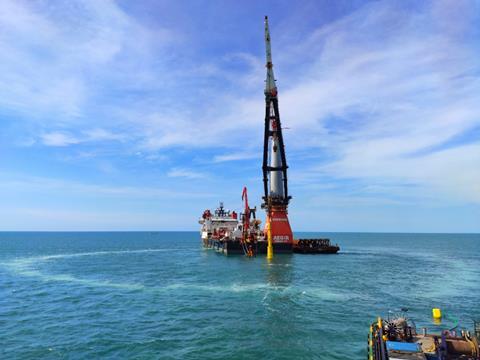 The wind farm will consist of 21 x 5.2 MW wind turbines on pre-piled jackets – which Jan De Nul constructed at the Samkang yard in South Korea earlier this year.
The first phase of the project will see Jan De Nul install 44 pin piles for 11 jackets. Heerema Marine Contractors' vessel Aegir has been chartered for the installation of the first 12 pin piles. The remaining piles are due to be shipped from the fabrication yard in South Korea in the coming weeks.
Peter De Poorter, manager of renewables at Jan De Nul explained that despite the Covid-19 pandemic impacting installation activities the company is, "fully determined to continue [its] engagement in the expansion of the offshore wind energy in Taiwan".
Meanwhile, Jan De Nul's cable laying vessel Willem de Vlamingh has installed the first of four power export cables. Due to the proximity of an oyster farm and an important shipping lane, the subsea cables had to be buried 21 m below the seabed. With the support of Hung Hua Construction, Jan De Nul employed two of its trenching excavators to drill four 1 km-long pipes connecting with the onshore junction box.