Jonmoore International Limited (JMI) has been involved in the handling of standard, out-of-gauge and specialised equipment for an oil refinery company in Tema, Ghana.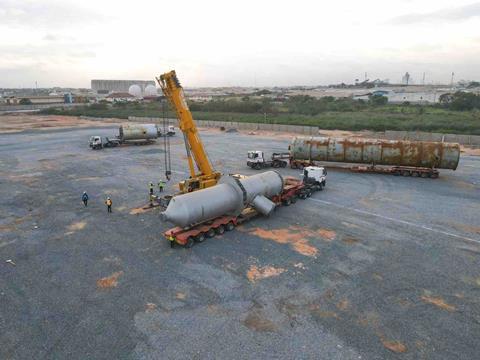 JMI offloaded the vessels and transported the cargoes through narrow roads, uneven surfaces, and roundabouts to make sure the cargo was delivered safely to the site, which is currently under construction 10 km away from the port.
Some of the equipment delivered included parts of the crude distillation and vacuum distillation units. JMI used its 19-axle modular trailer with an extendable bed to transport the heaviest items, as well as various other lowbeds, flatbeds and extendable trailers.
JMI said that the oil and gas industry is a good contributor to Ghana's economy, making up a significant proportion of its exports. Further exploration of this sector will be crucial as it has the potential to significantly increase the economic power of the country.