The Jumbo-SAL-Alliance has completed its project scope at the Saint-Nazaire offshore wind farm project, delivering 80 monopiles and 80 transition pieces across 20 journeys.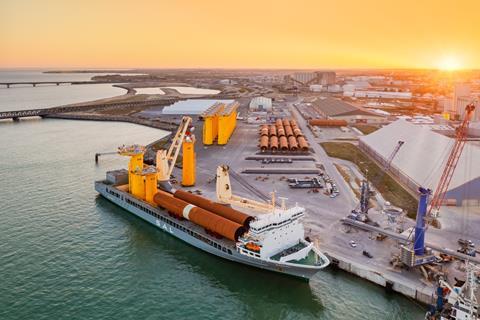 SAL's Svenja was tasked with the complex transport of the heavy foundations from the port of Rotterdam, the Netherlands, to Saint-Nazaire. "We have quite an impressive track record of projects carried out together with DEME Offshore," explained Morten Hinrichs, project manager at SAL Heavy Lift. "This is one of the reasons that DEME hired us to participate in this project. In addition, one main criterion was the ability to transport four monopiles and four transition pieces per shipment. After a detailed feasibility study, we found that our Type 183 vessel Svenja could handle the job. An additional benefit: The vessel's speed also provided DEME the greatest possible flexibility," he said.
The monopiles weighed up to 979 tonnes and measured 62 m in length. The transition pieces tipped the scales at around 496 tonnes.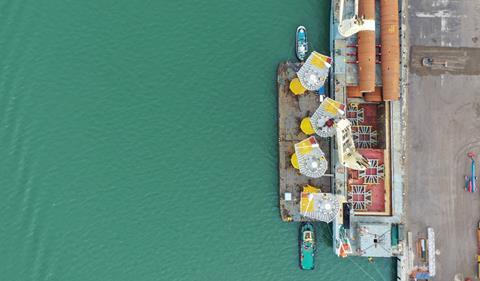 Matthieu Moerman, head of marine projects at SAL Heavy Lift, emphasised: "Finding the ideal transportation solution was very exciting. The set limits in terms of weight and dimensions of the foundations were complex and proved challenging in the planning phase. In the end, we provided a detailed and comprehensive transportation solution and documentation which fully covered our client's high demands."
The team designed a detailed lifting process with a step-by-step analysis of the complete lifting path and a tailor-made bumper and guide system for the relatively tall transition pieces measuring over 30 m in height. All transition pieces were to be loaded without using Svenja's stability pontoon. Svenja started the first of its 20 journeys in February 2021 and completed the project in October 2021.
"The combined transport of monopiles and transition pieces, especially the transport of transition pieces on the engine deck, made it necessary to re-evaluate the sea fastening requirements for the cargo. We carried out seafastening calculations based on the set weather limits and the transport in open-hatch condition. In the end, we used our well-known and already established sea fastening grillages for this type of transport to secure the monopiles and transition pieces. We modified them in line with the new dimensions of the foundation," explained Matthias Meyer, senior project engineer at SAL Engineering.