Jumbo-SAL-Alliance mobilised two of its heavy lift vessels – Fairpartner and Hairline - to support the Gorgon Stage 2 project in Western Australia.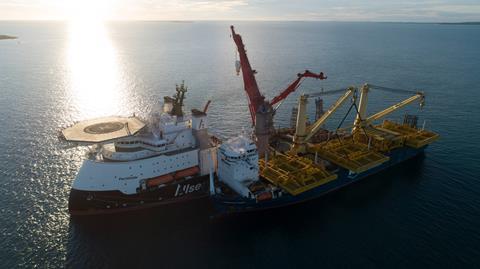 Fairpartner kicked off the project, using its 800-tonne lifting capacity cranes to pick up its share of project cargo – three subsea modules and foundations, and associated scour protection materials – from Malaysia and Indonesia and transporting them to Australia.
Fairlane's task was to transport two 11.4 m-diameter offshore reels from Norway to Australia. Upon arrival in Australia, all the cargo was transferred to the client's installation vessel.
According to Jumbo-SAL-Alliance, Fairpartner's load was not straightforward because all three foundations had a footprint of 30.34 m x 25.36 m, meaning that they protruded over the edge of the vessel's deck by almost 7 m. It was Jumbo's close communication with its client that yielded a seafastening solution that was not only safe, but also met the client's requirement of having no steel-to-steel contact.
The subsea modules and foundations were also loaded in such a way that they could be offloaded in any order. This gave the client flexibility of discharging sequence; they could choose which equipment to install depending on the weather conditions at their offshore installation sites.
Jumbo's director business development (Southeast Asia and Oceania) Jeroen Kock said: "This project was not without its difficulties; we had multiple stakeholders, engineering challenges, and of course, the continued presence of the coronavirus. However, we worked side-by-side with our client to complete the scope for an on-time delivery, undamaged cargo, and without any injuries."