M-Star Projects has delivered three oversized gas modules from Jebel Ali in the UAE to the port of Vlissingen, the Netherlands, for the Perenco Southern Hub Area Rationalisation Project (SHARP).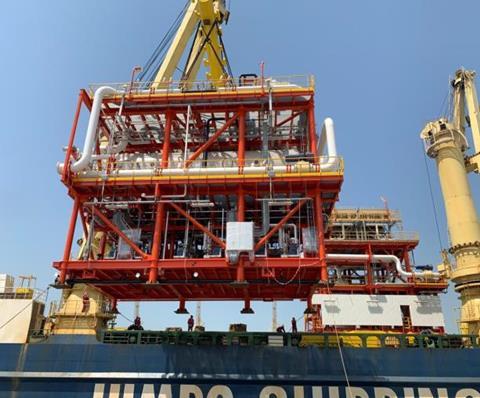 The largest of the modules tipped the scales at 260 tons (235.9 tonnes) and measured 17.7 m x 11 m x 18 m.
The other two gas modules weighed 236 tons (214.1 tonnes) and 165.5 tons (150.1 tonnes), measuring 15.4 m x 12 m x 16 m, and 15.2 m x 13.7 m x 11 m, respectively.
M-Star deployed 2 x 12 axle lines of SPMTs to transport the modules from the supplier to the port. The logistics service provider oversaw the handling at the port and shipment on a heavy lift vessel, as well as the receiving and handling at the port of discharge.
SPMTs were deployed again for the transport to the project site, where the modules were placed next to the oil platform.
M-Star's project scope also included the handling of documentation, removal of road obstacles, the coordination of road permits and escorts, cargo inspections, and sea fastening plans for the vessel.
M- Star is a member of the Project Cargo Network (PCN).