Mammoet has completed its role in the Dangote petroleum refinery project in Lekki, Nigeria, with the installation of a 1,240-tonne propylene bullet.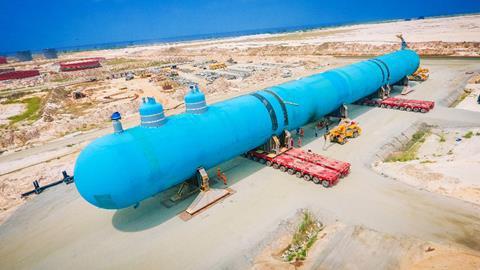 Mammoet was contracted to provide heavy lift transport for the project in January 2018. Over the course of the project, the transport engineering specialist utilised its fleet of conventional trailers and trucks, SPMTs and mobile crawler cranes. It also brought two heavy lift ring cranes into action – the PTC 200 DS, and PT 50 – with lifting capacities up to 5,000 tonnes.
Throughout the two years working on the project, Mammoet transported 239 pieces of equipment from the jetty to the site, a total weight of 84,905 tonnes. Notable moves include a 3,000-tonne regenerator that HLPFI reported on here, and a 2,000-tonne crude column.
Mammoet said that alongside its Nigerian partner Northridge Engineering, it worked to ensure operations created local economic value. It added that the refinery is expected to boost economic growth and employment in Nigeria. "We are very honoured that the Dangote Group entrusted us with the entire heavy lifting and transport scope for one of the most significant projects in Nigeria and the West Africa region," said Paul van Gelder, ceo at Mammoet.