Mammoet has loaded out a main support frame (MSF) module using 604 axle lines of SPMTs at Aibel Thailand's yard in Leam Chabang.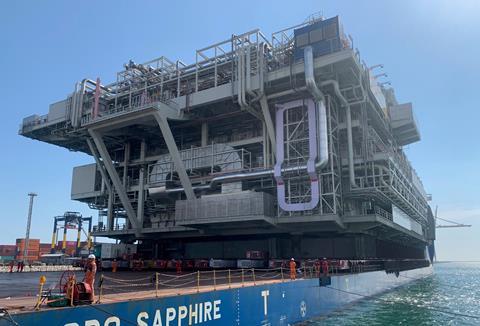 The MSF module weighed approximately 14,500 tonnes. With the grillages, the total weight tipped the scales at 16,258 tonnes. The module was the largest ever fabricated by Aibel Thailand and the largest to be loaded-out in the country using SPMTs, according to Mammoet.
The 604 axle lines of SPMTs and 21 power pack units (PPUs) were sourced from various depots in Asia-Pacific, Africa and the Middle East. Mammoet said that, due to Covid-19 restrictions causing complications with shipping schedules, it was a logistical challenge to bring in such a significant number of SPMTs from different locations.
With the SPMTs in position and the hydraulic and electronic systems connected, the module was lifted up from the fabrication supports using the SPMTs suspensions system. It was then moved approximately 700 m to the load-out quay.
The following day, Mammoet, Aibel, and the crew of the vessel coordinated the load-out. Shimming and adjusting procedures were undertaken before the MSF module could be completely set down on the vessel. After this, the SPMTs were removed from underneath the module.
The MSF module has since been shipped to Norway and is now part of Equinor's fifth platform for the Johan Sverdrup oil field.