Mammoet has transported Kenmare Resources' 7,100-tonne wet concentrator plant and its dredge from Namalope to Pilvili, Mozambique.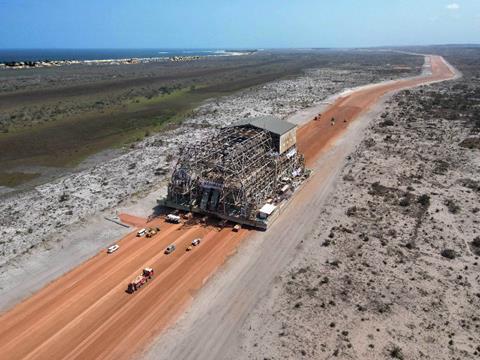 The heavy lift specialist was contracted for the move earlier this year, as HLPFI reported here.
The wet concentrator plant measured 80 m x 60 m x 24 m and required an impressive 290 axle lines of SPMTs for the move.
The plant and its dredge were first floated into an excavated pond and placed on concrete plinths. The pond was then drained, allowing the SPMTs – in a 5 x 58 configuration – to be positioned underneath. The plant was then moved along a 23 km-long purpose-built road to the new location.
In Pilvili, the operation was carried out in reverse and the plant was delivered to the new high-grade ore zone at the Moma mine.
Mammoet said that the relocation of the plant forms the third and final project of Kenmare's development programme to increase the Moma mine's production capacity. It was also the heaviest piece of mining equipment to be transported in Africa, and the most SPMT axles used for a move on the continent, according to Mammoet.