Mammoet has worked with Global Energy Group at the port of Nigg in Scotland on a ring crane solution that allows the handling of offshore wind components regardless of tidal conditions.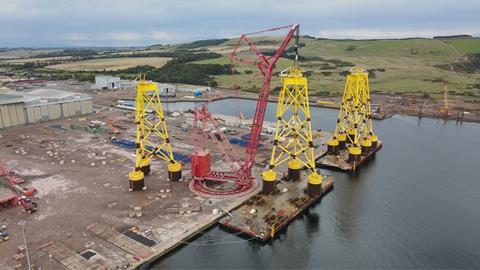 In the UK, water levels can vary by 4 m every six hours. With that extreme tidal range, it is difficult to compensate using ballasting, so projects that require load-in or load-out of large jackets are delayed when waters are too high or low, leaving the installation vessel waiting, said Mammoet.
The port of Nigg is being used as the marshalling facility for Seagreen offshore wind farm, which will consist of 114 wind turbine foundation jackets that stand 95 m tall. To reduce downtime of offshore assets, Mammoet proposed using a combination of SPMTs and the PTC 210 DS ring crane.
The conventional approach, according to Mammoet, would be to mobilise a fleet of SPMTs, then use these to complete all manoeuvres. Though this may be the most obvious solution, it actually imposes many limitations. For example, while ballasting can be used to overcome changing water levels, if the tidal range is too large then the required barge height cannot be maintained, and the operational window is closed.
If SPMTs need to drive on and off the barge, then deck space needs to be permanently cleared. This limits the area available for stowing the jackets, grillage beams and seafastening. Larger and stronger barges can overcome these limitations, but this reduces size of the fleet that can be used for the project, causing supply chain issues and driving up project costs.
Having been involved with the project since 2018 and sharing a close working relationship with its customer Global Energy Group, Mammoet's engineers were able to look beyond just the heavy transport scope. This allowed them to provide a more efficient alternative to SPMT transport.
With the PTC 210 DS ring crane, the impact of tidal shifts are eliminated. The ring crane also enabled smooth parallel operations, as it could load-out jackets to a waiting vessel while SPMTs offloaded others. Outside the delivery windows, jackets could be brought to the quayside, within lifting range of the crane, well in advance of a vessel arriving from offshore, cutting down significantly on crane waiting time and so maximising the output of the installation vessel.
Mammoet UK technical sales manager Oliver Smith said: "As ever, when an organisation is deciding on a project of this scale, cost efficiency is always an important factor. We were involved with this project years in advance - well before some of the full details came to light. It was only further down the line that we needed to reassess the situation and move away from SPMT-only operations.
"This change in plan wasn't small either; we knew that our customer would in turn need to secure buy-in from their customer that the proposed solution would deliver results. How did we achieve this? We integrated engineering teams to demonstrate the flexibility of the solution and work through the risk, while in parallel, we were working with our customer on the commercial calculations, proving that the numbers did indeed add up."
With the plans agreed and finalized, the loading operation commenced in July 2021 when the first jackets were delivered to Nigg Energy Park, loaded-in using SPMTs, then offloaded and stored in their pre-positioned blocking arrangement on-site.
In September 2021, the jackets were lifted from this arrangement and transferred to the quay edge via SPMT, and from there were loaded onto the feeder barges using the PTC 210 DS ring crane. They were then tugged to the installation vessel and installed 27 km from the coast of Angus by the project's engineering, procurement, construction and installation (EPCI) contractor, Seaway 7.