Mammoet has installed 24 precast girders on the Mirdif City Center bridge in Dubai, as part of a bridge widening project.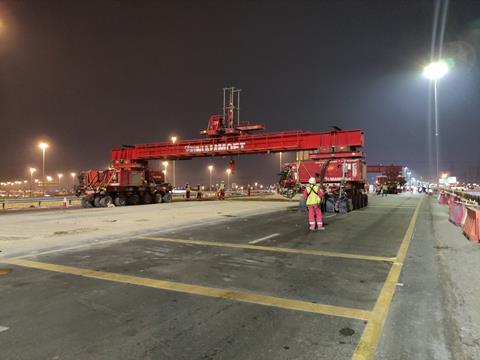 Afcons Infrastructure contracted Mammoet for the project, which required girders to be installed on supports from the top of two dual-lane bridges, to allow for two additional lanes of traffic. The works form part of Dubai Road and Transport Authority's (RTA) plans to improve road infrastructure.
Mammoet explained that installing the girders from the ground was not possible due to space constraints and a busy highway. Instead, the heavy lift specialist employed a mobile gantry system that could straddle the two existing bridges.
The system comprised custom-made beams with two 100-tonne strand jacks and a skidding system, sitting on top of SPMTs.
The mobile gantry was positioned above each precast girder. Each section was then raised using the strand jacks until at a sufficient height for transport. The mobile gantry proceeded to travel over the existing bridges until it reached the installation point. The girder was then skidded above its final position, lowered down, and secured onto supports.