Mammoet has relocated two tunnel boring machines (TBM) and their components at the site of Metro Tunnel Project's Anzac Station in Melbourne, Australia.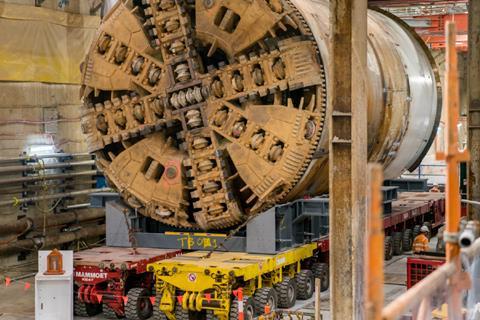 The 660-tonne machines were lowered 20 m below street level. Working underground, Mammoet deployed six 300-tonne capacity hydraulic jacks to lift each unit off the station floor, so that 14 axle lines of SPMTs in a four-file configuration could be positioned beneath.
The machines were then transported slowly to the launch ramp where hydraulic jacks lifted the TBMs from the SPMTs. Subsequently, the units were jacked-down onto Mammoet's 600-tonne capacity push-pull skid system and manoeuvred forward into their final positioning location.
Mammoet also moved and positioned a 57-tonne thrust frame and 60-tonne gantry.
The relocation of the machines took approximately three days and three nights each, according to Mammoet.
The Metro Tunnel Project will see twin 9 km-long tunnels and five underground stations built in Melbourne.