Earlier this year, Megalift transported an oil and gas pressure vessel from the fabricator's yard in Kemaman to Petronas' chemical plant in Gebeng, Malaysia, covering a distance of more than 70 km.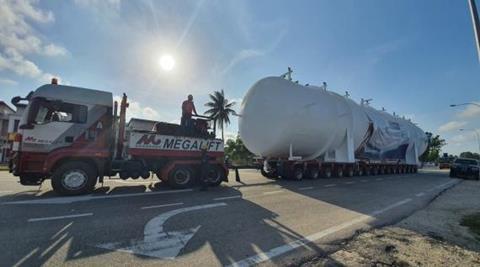 The pressure vessel weighed 82 tonnes and measured 27.3 m x 5.82 m x 6.18 m.
Due to the height of the cargo, Megalift had to plan a route that avoided overhead bridges. The trailer had to move along narrow passageways, villages and small towns before it could drive along the coastal road to the chemical plant.
While the route avoided bridges, the combination encountered at least 100 overhead cables that needed to be lifted out of the way. This caused a significant slowdown in travel speed and congestion and so required great coordination with the traffic authority to divert other road users.
Whilst the cargo was being transported, another Megalift team was stationed in Petronas' chemical plant to perform the ground preparation work, including removal of fences and laying down of steel ramps and plates. On arrival, the pressure vessel was then lifted and placed onto its foundation using a 500-tonne capacity crane.
It took two days to complete the road transport to Gebeng, and one day to complete the lifting operations on site.
Megalift is a member of the Project Cargo Network (PCN).