The port of Stockholm has reported increasing volumes of large modular construction units being delivered to the gateway.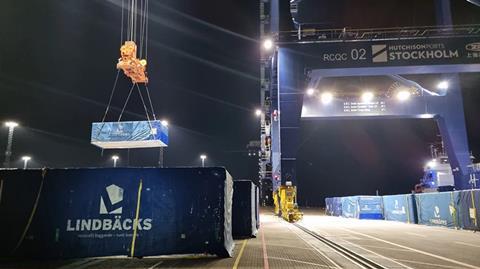 The most recent arrival was a consignment of modular construction units that sailed from Piteå in northern Sweden directly to Stockholm Norvik Port, before being delivered to Nynäshamn. The consignment comprised 70 modular units from Lindbäcks Bygg, and there could be more loads in the future.
"A great advantage of Stockholm Norvik is its proximity to our construction site, which is only 8 km from the port. This was the initial reason for us contacting the port. Stockholm Norvik Port is very impressive and modern and I was really surprised how incredibly cooperative and flexible the port has been, considering that we are a relatively small customer. I am hoping we will continue to collaborate," said Sofia Franzén, logistics developer at Lindbäcks Bygg.
Hutchison Ports operates the container terminal at Stockholm Norvik Port and believes there are advantages to handling project loads in addition to container transport. "It is fantastic to see the forward-thinking companies who are using ships instead of overland haulage and we are proud to be able to provide this service to the Municipality of Nynäshamn as it grows," said Mike Barry, sales and marketing officer, Hutchison Ports Stockholm.