Iceland-based crane company Heimir og Lárus used a Modulift spreader beam to lift four storage tanks for fishing and processing company Ísfélag Vestmannaeyja.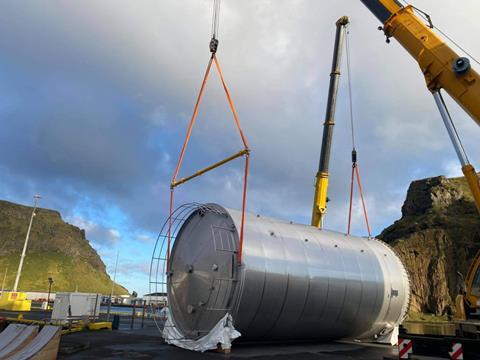 The tanks measured 17 m in length and weighed 25 tonnes.
There were two grove cranes on site – a GMK 5130 and GMK 5100. A Modulift MOD 50 spreader beam was "the perfect partnership for the four lifts that took place", said Modulift.
At its maximum span of 13 m, the spreader beam can lift up to 18 tonnes. However, these lifts required only an 8 m span, which meant the configuration had a lifting capacity of 50 tonnes.
Lárus Lárusson, owner of Heimir og Larus ehf, said: "Each lift took less than an hour to complete, but the key to any lift is the preparation, and we have worked with Modulift on a number of occasions."
The tanks will help the fishing company Ísfélag Vestmannaeyja increase its storing and freezing capacity of capelin fish – allowing its vessels to return to fishing quicker.