Australia-headquartered Marr Contracting has used a heavy lift tower crane to lift a 155-tonne load to height of 318 m.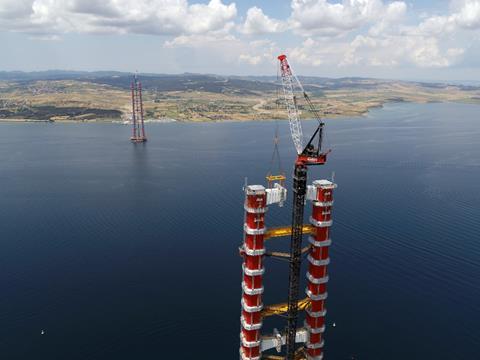 M2480D heavy lift luffer (HLL) cranes were mobilised to the 1915 Canakkale bridge construction project in Turkey to execute the work. The DLSY consortium – consisting of Turkish companies Limak and Yapi Markezi, and Korean companies Daelim and SK – awarded Marr the contract in 2017.
The Marr team worked with the DSLY project team to develop a method that makes use of the HLL cranes' ability to lift heavy modularised components, instead of the traditional approach of lifting many smaller components.
Two of Marr's cranes have been onsite since 2019 constructing the bridges 318 m-high towers employing this method. The heavy lift specialist said this lifting plan has allowed it to shorten the construction schedule, reduce the amount of site-based activity and improve safety levels.
For the impressive lift, the M2480D crane, which has a lifting capacity of 330 tonnes, was positioned 328 m above the water. Over the course of 30 minutes the tower crane lifted a 155-tonne piece of the upper crossbeam (UCB) to its position 318 m above the sea.
The lift and installation of the UCB on the Asian side of the Canakkale strait took place at midnight on June 7, 2020. The European side was completed 24 hours later. The bridge will be the longest suspension bridge in the world at a length of 4.6 km, connecting the town of Gallipoli on the European side of Turkey, with Lapseki on the Asian side.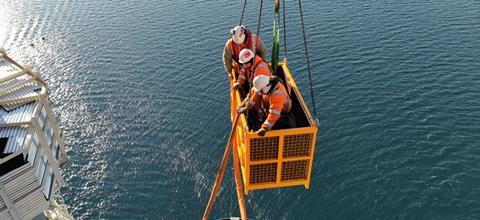 Simon Marr, contracting managing director said: "The unparalleled lifting capacity of our M2480D HLL cranes have been a game change for this project and will potentially change the way our industry looks at how bridges can be built, as well as a host of other large scale projects."
Marr's scope of work on the project is scheduled for completion by January 2021. The bridge is due to open on March 18, 2022.