NASA's Crawler-Transport 2 (CT-2) has moved the most powerful rocket ever built to the Kennedy Space Center launch pad 39C in preparation for its maiden launch around the Moon, which will take place no earlier than August 29.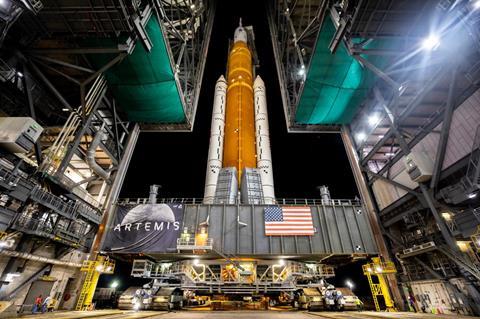 The 6.75 km journey to the launch pad took 10 hours to complete. As HLPFI previously reported, CT-2 travels at a speed of less than 1.6 km/h. Drivers swap out every 45-60 minutes to prevent fatigue.
The crawler, designed by Bucyrus Erie Company and built by Marion Power Shovel Company in the 1960s, is the largest self-powered land vehicle in the world. It measures 40 m x 35 m, from ground level stands between 6.1 m to 7.9 m tall, and has eight tracks comprising 57 shoes apeice. It has a handling capacity of 8,164 tonnes.