USA-based Omega Morgan has handled heavy equipment at Puget Sound Energy's (PSE) plant.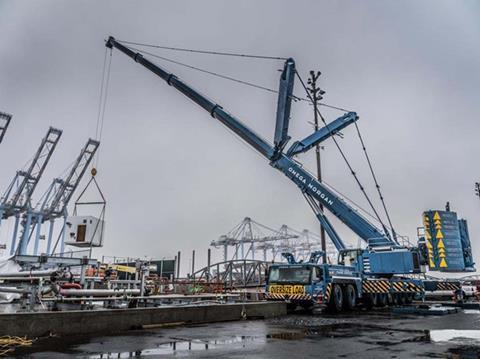 McDermott International contracted Omega Morgan to load, transport, and set down an 11.3-tonne power distribution centre and a 17.2-tonne marine loading arm. Including other additional pieces of equipment, the total weight of the pieces moved was 45.4 tonnes.
Omega Morgan said that one option was to move the units by a barge crane. However, as this was a costly alternative, the heavy lift specialist instead utilised a Liebherr LTM1400-7.1 mobile crane to set the equipment from the dock.
Due to the weight of the equipment combined with the weight of the crane, Omega Morgan had to ensure the ground bearing pressure was low enough to handle the load before the work could begin.
The crane was placed on an area where soil improvements had previously been carried out. McDermott and Omega Morgan worked in collaboration to ensure the weights and radius transfer was precise, with accurate load bearing information, appropriate weight distribution and positioning.
Following careful planning and checks, all equipment was loaded, transported, and set without issue, Omega Morgan said.