deugro has delivered 17,487 freight tons of steel pipes across six part charters from Masan, South Korea, to Batam, Indonesia.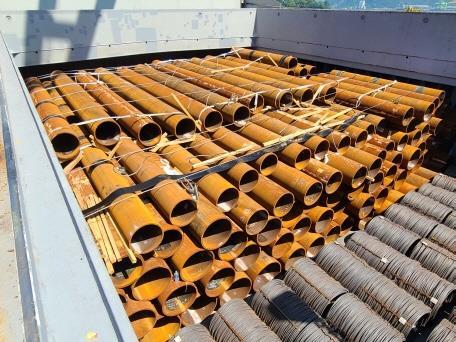 deugro was awarded the contract by PT SMOE Indonesia, a group company of Sembcorp Marine. The pipes were needed for the production of 15 jackets for an offshore renewable energy project in Taiwan.
deugro, in cooperation with its engineering arm dteq, developed the shipment plan in line with the client's production process to meet the tight fabrication schedule. At the port of Masan, the steel pipes of various sizes were loaded using the ship's own crane and stowed under deck on the pre-installed timber blocks for the safe transport across 2,500 nautical miles to the client's private jetty in Batam.
Due to the worldwide restrictions imposed by Covid-19, port and vessel regulations changed frequently during the planning and execution phases of the project. Strict requirements regarding the vessel selection guidelines, handling procedures, documentation submission and approval had to be considered.
deugro's experts coordinated and supervised the operations remotely (due to Covid-19 travel restrictions), in collaboration with a subcontracted surveyor at the site. This included checking vessel and crew certificates, reporting the cargo condition and quality at the time of loading and discharging, as well as ensuring safe loading and discharging operations.
All items were delivered according to schedule over the course of six months.
"The frequently changing restrictions were challenging during this project. We continuously monitored the developments and ensured a secure and timely delivery," said Ankit Neema, head of business development, key accounts and specialised projects at deugro.