The front cover of HLPFI's May/June 2021 edition displayed a photo of two maleic anhydride reactor units being transported by Truck Service, on the order of RTL LLC, from Nizhnekamsk to Almetyevsk using specially designed combinations of Goldhofer THP/SL 24 axle lines.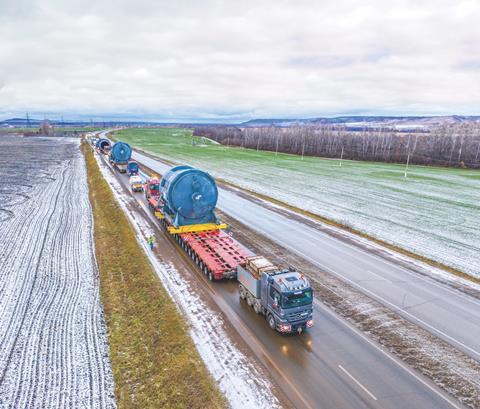 In the autumn of 2020, RTL carried out the international delivery of a maleic anhydride synthesis reactor for PJSC Tatneft, one of the largest Russian oil companies involved in the production of crude oil and gas, and petrochemicals, as well as petroleum refining.
The multifunctional base chemical maleic anhydride is used in almost all branches of industrial chemistry but is not produced in Russia; demand for the product is completely covered by imports. According to RTL, the commissioning of the maleic anhydride production plant is planned for 2023 and will meet international environmental standards.
The consignment, which comprised 28 units including two large units weighing 333.4 tonnes each with dimensions 10.5 m x 7 m x 6.8 m, was first delivered by river barge to the port of Rotterdam, where the cargo was loaded onto an oceangoing vessel for delivery to the Russian port of St Petersburg.
On arrival in St Petersburg, the equipment was loaded onto another river barge for shipment to the dock at Nizhnekamsk. Here the 26 smaller units - including spare parts and components - were loaded onto vehicles by cranes, while the two oversize units were rolled off the barge onto trailers.
The consignment was then transported by road to Almetyevsk using a combination of Goldhofer THP/SL 24 axle lines.
RTL told HLPFI that the project challenges included meeting tight deadlines in order to ensure the river transportation in Russia was completed before the end of the navigation season. RTL also upgraded the cargo beds to allow the safe roll out and loading of the reactors onto modular trailers in Nizhnekamsk.
The total length of the transport from Rotterdam to the Almetyevsk site was an impressive 1,820 km.
A photo of this project was used on the front cover of HLPFI's May/June 2021 edition. Read the full issue here.

RTL LLC specialises in project logistics, freight forwarding and customs clearance across Russia, Europe, CIS and Asia. Leading companies from the oil and gas, petrochemical, energy, and heavy industries trust RTL to deliver engineered technical solutions in support of their heavy transport requirements.
View full Profile