Italy's Rubiera Special Steel is utilising its six-axle Eco1000 SPMT with integrated power pack unit from Cometto to move in-plant components.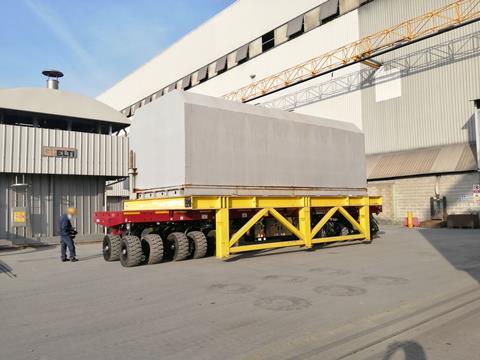 With a loading deck length of 11.6 m, Rubiera uses the Eco1000 solution from Cometto for its daily production work. Jobs already performed include the transport of a slow cooling container comprising a multi-faceted ingot that weighed 130 tons (117.9 tonnes). The total weight of the cargo loaded on the trailer tipped the scales at 175 tons (158.8 tonnes).
Another transport involved moving two round hot ingots weighing 63 tons (57.2 tonnes) carried on the refractory base of a slow cooling container.
The Eco1000 has a width of only 2.4 m, which makes it very manoeuvrable within factory sites, said Cometto.