Sarens has installed a 220-tonne boiler module at a combined-cycle power plant in Khenchela, Algeria.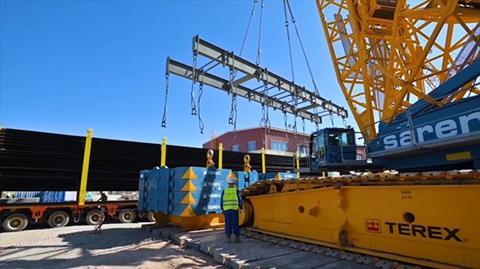 Sarens completed the installation of the 37 m-long module on behalf of Etterkib.
Sarens deployed Demag CC2800-1, Demag CC2400-1, and Demag AC259 cranes for the work, which the company said were specially selected to handle not only the weight of the module but also to accommodate the need for rotating movements during the installation.
The CC2800-1 crawler crane was transported to the work site directly from another project; it took a total of three days to set up. It offloaded the modules from the trailer before operators removed the shipping frame and then placed the module into a verticalization frame.
The CC2800-1 then lifted both the frame and module together, with support from the CC2400-1 tailing crane. A support Demag AC259 crane connected to the strongback while the trailing crane remained connected.
The CC2800-1 continued to lift the cargo until the frame was detached, before rotating and moving the module into position.
At the project's peak, Sarens said its crew included a project engineer, lifting supervisor, three crane operators, a crane assembler, and riggers.