P. Schwandner Logistik + Transport has deployed its RotorBladeTransportSystem (RBTS) from Scheuerle to move wind turbine blades from the port of Cuxhaven to a wind farm near Erfurt, a distance of approximately 680 km.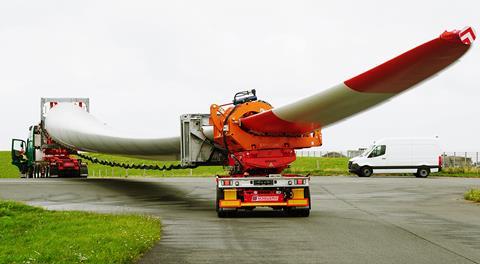 The Vestas V 162 blades measured 70 m long, resulting in a complete vehicle combination that measured 86 m.
The company's managing director, Peter Schwandner, said: "Normally, we would use a telescopic semi-trailer for such transport assignments. In order to get through the various bottlenecks using this, we would have had to dismantle crash barriers." As this would have required additional time and money, not to mention a more complex permit approval process, "the RBTS provides us with significant economic advantages", he explained.
The system from Scheuerle can be used to compensate for large differences in height between the dolly and the trailing unit. The lifting height reaches up to 2 m at the front and up to 1 m at the rear.
Jointly developed by Scheuerle and Vestas, the RBTS consists of a two-axle jeep dolly together with a free-turning device and a four-axle trailing unit.
Scheuerle explained: "Assembly of the wind blade is carried out according to the plug-and-play principle. With the help of a special lifting device, the wing root is comfortably picked up from the ground. The quick coupling solution is comprised of the free-turning device along with the root adapter and a root frame that is connected to the blade root. This frame can then be secured to the free-turning device in next to no time with the help of the adapter. A clamp on the dolly is used to fix the tip of the rotor blade into position. At the same time, the attachment of the blade facilitates torsion-free mounting and safe transportation."
The RBTS also offers numerous advantages regarding empty runs, added the manufacturer. It can be shortened to a 16.5 m long tractor-trailer combination, with a 2.55 m width, and weighing less than 40 tonnes. This means that no special permit is required for an empty run. In addition, the RBTS can be adapted to accommodate rotor blades from other manufacturers.