USA-based Stevens Towing has transported a Mitsubishi turbine from Savannah to Mount Vernon, Indiana.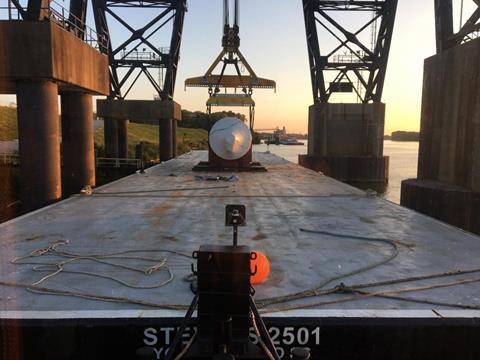 The 372-ton (337.5-tonne) turbine was loaded from a railcar onto one of Stevens Towing's deck barges at the Ocean Terminal in Savannah using its 500-ton (453.6-tonne) lifting capacity floating derrick, Savannah Giant.
The turbine then made its way along the Tennessee-Tombigbee Waterway and on to Mount Vernon.
Stevens Towing will deliver a second turbine during October.
The company said that it has started to feel the effects of the Covid-19 crisis and the upcoming US election, with a number of projects scheduled for the third and fourth quarter of this year being postponed into 2021.
"Due to a slight slowdown, we have done our best to take advantage of this time for maintenance. We are optimistic to fill these gaps in the short term while the majority of our customers in the logistics supply chain are all also experiencing a slight slowdown. Also, we continue to make good progress towards obtaining certificate of inspections (COI) on several additional tugs for Subchapter M," said Stevens Towing.
The company has also moved into a new office space, which will provide additional waterfront ground at its shipyard once the old office building is demolished.
The October/November issue of HLPFI includes our annual look at the tugs and towage market. It comes at a time when the world's economy has been battered by the Covid-19 pandemic and energy price volatility. These factors have exacerbated existing problems facing this niche sector, the primary one being unsustainable rates.
Subscribe today to make sure you receive your copy.