Multipurpose and heavy lift shipping line Swire Projects completed the inaugural voyage of its H-class vessel, Pacific Hero.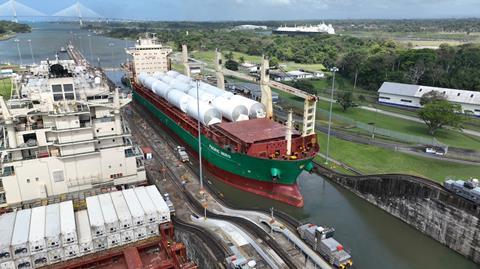 The first of three H-class vessels chartered by the Swire Shipping division, the 28,500 dwt Pacific Hero shipped brewery tanks from Rotterdam to Guaymas, Mexico.
Working closely with Germany-based TradeLink & Associates Bremen and KSP Transport Ratingen, Swire Projects loaded 19 packages with a collective volume of roughly 28,900 cu m.
HLPFI reported in mid-2022 that Swire Projects has taken three multipurpose vessels on long-term charter, which would be renamed Pacific Honour, Pacific Humility, and Pacific Hero.

"We are thrilled to finally have our H-class vessels join the Swire Projects fleet and begin their work," said Namir Khanbabi, general manager of Swire Projects.
"These vessels are a testament to our long-term business commitment to provide the highest level of service and efficiency to our clients. We look forward to seeing all three H-class vessels in action and delivering cargo safely and on time."
The vessels have a maximum lift capacity of 150 tonnes.