UK-based Robert Wynn and Sons has utilised its heavy lift ro-ro barge Terra Marique to deliver cargoes via the River Forth to Alloa, Scotland.
According to Robert Wynn and Sons, it is the first shipping company to deliver cargo via the River Forth, through the Kincardine and Clackmannanshire bridges, to Alloa in over 60 years.
In an operation that has been 10 months in the planning, the 80 m x 16.5 m barge, specifically designed to operate on inland waterways and offload without the need for significant onsite infrastructure, completed five consecutive transits from Forth Ports Rosyth to the offloading site on the outskirts of Alloa.
In total, Robert Wynn and Sons delivered nine units, with a combined weight of 941 tonnes. The largest piece measured 56 m long, with a diameter of 6 m, and tipped the scales at 187 tonnes.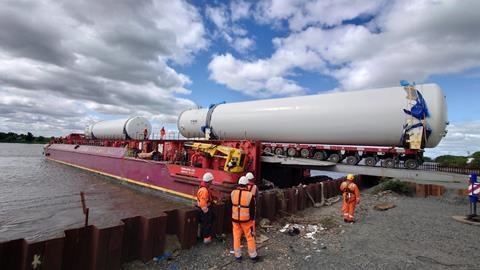 The cargoes were loaded onto SPMTs from Mammoet and rolled off the barge in Alloa.
Timings on this project were critical, said Robert Wynn and Sons, as navigation through the bridges was planned to the minute due to the tidal variations on the Forth.

Working for Kestral Liner Agencies, Robert Wynn and Son's engineers and crew were part of a bespoke team assembled for their expertise on the Forth. Robert Wynn and Sons general manager Andy Manners said: "While the Terra Marique is purpose built for such operations, there are a number of factors unique to this project that has meant that detailed planning and collective working was required to successfully carry out such a complex operation.
"Our engineers, crew and those from Kestral, Forth Logistics, Class 1 Maritime, GSS and Coastworks all worked tirelessly together to ensure this project was delivered as planned."