AV Dawson's port of Middlesbrough facilities in the UK has worked with Bertling Logistics and construction company Strabag to import tunnel segments for Anglo American's Woodsmith project on the North Yorkshire Moors.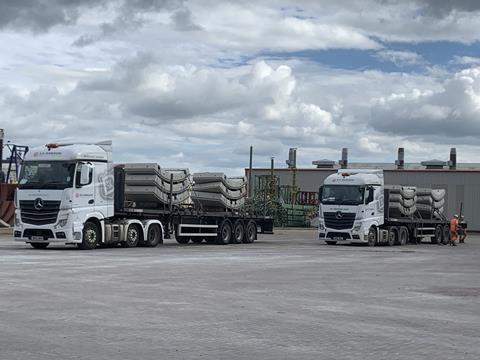 The Woodsmith project is a deep mine with associated transport, processing and shipping infrastructure developments. As part of the development a 35 km tunnel is being built to transport minerals to the River Tees for export.
So far the project has called upon Wilton International in Redcar to manufacture the tunnel segments. However, the rapid pace of construction has meant that segments have been required faster than they can be produced, and so additional tunnel sections have to be imported, said AV Dawson.
Andy Raine, deputy project director of Strabag, said: "We calculated that we needed to import an extra 3,000 precast concrete segments to keep up with the rate the tunnel boring machine was building the tunnel. Importing these was a particularly complex logistical challenge not only due to the sheer number of segments required but also the weight of each segment."
Paul Snowdon from Bertling UK added: "Bertling Logistics was awarded the project to deliver concrete segments from Sassnitz in Germany to the Anglo American Potash site in Wilton. Our Hamburg office time-chartered a coaster vessel over four round trips to deliver all the cargo safely. We selected AV Dawson's port of Middlesbrough as the discharge point as the team there demonstrated a real appetite to work with us, as well as providing a strategic location and flexibility to ensure high quality standards were maintained throughout the project cycle."
The segments were shipped as breakbulk cargo, with each stack individually lashed and secured to the floor of the vessel. These stacks were then unloaded at port of Middlesbrough, with Bertling's heavy logistics and engineering office in Middlesbrough surveying the discharge of all concrete sections. AV Dawson's road transport team then handled the onward delivery to the project site.
Port of Middlesbrough is an amalgamation of several parts of AV Dawson's port and logistics operations in the area. The company recently combined these operations into the one integrated port facility as part of its three-year port masterplan to further develop the site.
An investment to the tune of GBP10 million (USD12.8 million) will see the construction of a plastic waste recycling plant, a new head office and the enhancement of AV Dawson's existing quayside to accommodate larger vessels.
Gary Dawson, managing director at AV Dawson, said: "We wanted to consolidate under one new encompassing brand and image, but with a continuation of the AV Dawson name and legacy. Port of Middlesbrough – an AV Dawson facility fits with our history and reflects the growth of our business and the town.
"We plan to work closely with the statutory harbour authority, PD Ports, to ensure the Tees attracts more ships, as ultimately this will help drive jobs and the local economy," added Dawson.